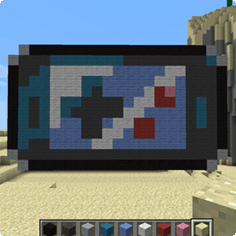 Hi Everyone!
I hope you're all enjoying our latest release, the Touchy Controller!
We would like to thank all of our fans for spreading the word about our app. In fact, we have even received a great piece of fanart that we want to share with you all.
Someone has went ahead and created a HUGE sculpture in Minecraft of our touchy icon and sent it in to us! That really is awesome, so massive thanks goes out to Santi-Zapo.
Full Image: Click Here!
Get Touchy: Click Here!
We would love to see more touchy related artwork, so please do send it in!
If you are enjoying the Touchy app, you can help us by spreading the word and telling your friends and family, leaving a review on the app store and rating it. You can also like, +1, tweet, stumble and share in many ways on our Touchy page!
Thanks to those that have been sharing and supporting already! :)