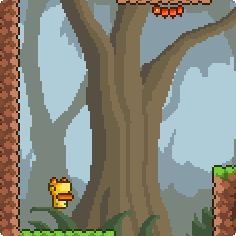 In this weeks Pixelove we introduce you to gravity Duck a puzzle platformer by Woblyware
Play gravity duck here
Everybody loves ducks don't they??? Why of course, we hear you say...Well your all in luck as this is no ordinary duck either, he has the power to flip gravity.
Guide your duck through forty levels of egg gathering action.
Although this flipping mechanic may be not completely original (seen in such series as VVVVV) it does have bags of charm in its teeny pixel sprites. And it's a very enjoyable little platformer to waddle your way through. It's got some nice head nodding retro beats thrown in there too.
Enyoy Gravity duck and catch up with us next week for some more pixelove.
p.s. If you have any Pixel games that you would love to see featured by us then feel free to point them out in the comments below.