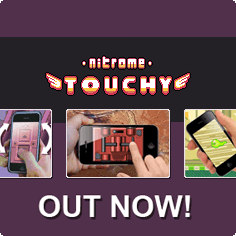 Hello to all you good good people out there!
Well today is a big day... no not because it's Halloween, however we do have a treat for you! We've been working hard in our humble Nitrome office and are proud to announce…
NITROME TOUCHY IS NOW LIVE! Oh yeah!
We have 10 games that can be played through your browser with the Nitrome Touchy app. Just download the app from the iTunes App Store and try it out on Super Snotput. You can then upgrade the app through one in-app-purchase to unlock all the other games that are available. We are also working on releasing more Touchy compatible games, there will be 20 more coming out within the next 6 months.
For all you Android lovers out there, an android version will be coming soon. (We're working on it as we speak, and will keep you updated).
For more information on how the app, the games and videos you can check out our Touchy home page.
Happy Halloween all!