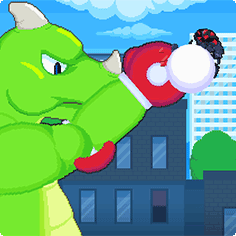 Hi Nitromians!
Today's Pixel Love game is Roar Rampage!
This game was created by Neutronized
Roar Rampage is a really fun game where you are tasked with smashing your way through buildings, helicopters and more as you attempt to rescue your kidnapped son!
We were really interested to see the wildly different direction that was taken by Neutronized after being inspired by Rubble Trouble.
"influenced by one the greatest and clever games, Rubble Trouble." - Neutronized
We hope you enjoy this as much as we have and we can't wait to see what Gionathan Pesaresi brings out next! Get Smashing!