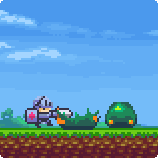 Hi Nitromians!
Today's Pixel Love game is Slayin!
This game was created by Tom 'Reggie' Schreiber (Pixel Licker Games)
This game has so much depth!
Level up and take control of a Knight, Wizard or Knave! This game is small in it's dimensions, but massive in content and is an absolute joy to play!
We have had a lot of fun playing this, enjoy!
Play Slayin: Click Here!