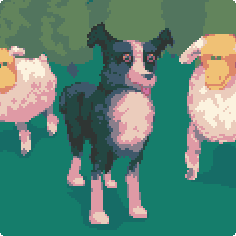 Hey Nitromians.
Who's ready for some more pixel lovin? ...I know we are
Today's game is called 'Sheepwalk' made by Ben Pettengill
Take control of man's best friend and help round up the sheep to the safety of their pens.
There is so much to love about this game. From the charming pixel pup and his little followers, to the way the game introduces frequent elements so that the player is kept on their toes 'paws' is very nicely done.
We especially liked the witty banter between the Ranch owner and the player, which will be sure to put a smile on some of your faces. Also make sure you have your speakers on for some top notch retro beats.
Sounds like fun... But trust us, it's no walk in the park!
Have fun with this one and check back next week for some more Pixel Love. =0)
Play Sheepwalk: Click Here!