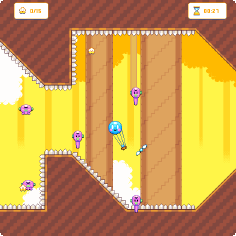 Here it is Nitromians!
The demo we promised this week is from our upcoming game Hot Air Jr!
We are really happy with the original Hot Air games and we have taken the concept of guiding your balloon through dangerous environments with your fan whilst also trying to give Hot Air Jr a nice balance in terms of difficulty.
Something we noticed in the original Hot Air games was just how unforgiving they were, so with that in mind, Hot Air Jr is being developed to give users some areas to rest and think about the obstacles ahead without always having to worry about the constant spikes! :)
We would really like to know what you all think of the game engine so far, as your feedback could help us make the game even better.
Please no…
READ MORE