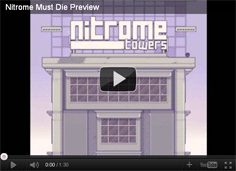 Good day to you Nitromians!
We're proud to announce we have a trailer out for our 100th game. This may answer some of the questions that have been raised over the past week with Nitrome Must Die. Well done to all those that correctly guessed that it was linked to our 100th game. We are very close now to the release
Enjoy the video!
Nitrome Must Die Trailer: Click Here!