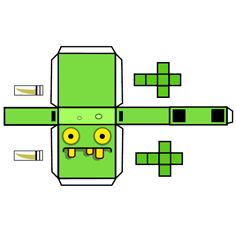 A Nitromian by the name of G'reth sent us some great papercraft fan art featuring a character from our game Square Meal and we thought you might appreciate it too, so here it is!
We think that this is a impressive piece of work, It looks awesome!
Why not try building one for yourself? You can download the pdf file below and print it out!
Square Meal Papercraft: Click Here!
Thanks for this G'reth, we think it's great!
If you have any fan art you have made about Nitrome please do send it in! We love everything we get sent especially if it is our work applied to something we have never seen before. We will feature the best, most striking and most unusual pieces in our blog.