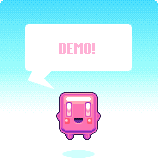 Hey Nitromians, guess what? It's Friday! Woohoo!
We hope you are all having fun playing around in the Cheese Dreams Demo that we released today. Feel free to let us know what you think about the demo as any helpful feedback will help us bring you a better complete game!
Play the Cheese Dreams Demo: Click Here!
Have a great weekend! :)