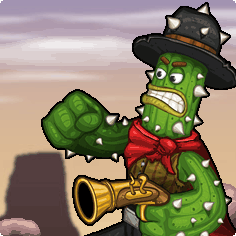 This weeks Pixelove goes out to Cactus McCoy.
Take control of a gun slinging cactus in this epic beat-em-up platform adventure by Flipline Studios Tony Solary and Matt Neff
The first thing to note is the fact that this is a very highly polished title indeed. We were stunned with the level of depth in Cactus McCoy. It has the amount of pure content usually found only in paid-for titles. The sheer number of secrets and achievements to discover in each of its twelve levels is truly impressive.
It also has simple pick up and play keyboard controls. With plenty of onscreen hints and a balanced difficulty curve you will be king of the west before you know it.
Well what are you waiting for grab your holsters and start shooting.
Play Cactus McCoy: Click Here!
Flipline Studios: Click Here!
Happy gaming =0)