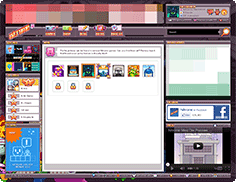 Hi Nitromians!
It has been a while since we gave you the last update as to what is happening with the user accounts, so today I thought I would let you know what's currently happening with our upcoming site features. I'll also take this opportunity to let you know why it's taking us a little longer than originally anticipated.
We have been experimenting with our ads lately to help us strike a reasonable balance in revenue whilst not adversely affecting your gaming experience.
One of the most obvious changes included adding the 'balloon panel' on our game pages. We are aware that it isn't the prettiest solution for the time being, yet it has been a relatively quick way for us to help with our ad revenue whilst not hindering the games or your game play.
We know that we'll be able to make much better use of the space when we introduce the next major site update, accounts!
The advertising issue has taken away some time from the development of really fun stuff, like user accounts, but it was very important.
We have also got a new member on the Nitrome team, Jack, and he will be taking care of our ads, freeing up time to focus on the site update.
I'm very happy to say that we are now currently back to work on the new site update, accounts and more features!
I have attached a preview of a new avatars section that will be included in the update. You may also notice that we will be including a search bar.
That'll make it easier to find games, news and friends! :)
Avatars Page Preview: Click Here!