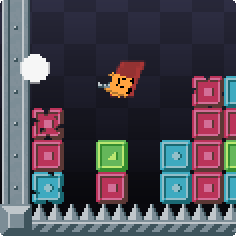 Hi Nitromians!
This week we are introducing something a little different for you all!
From time to time, we are going to start highlighting pixel based games that we really love that have been created by some very talented developers outside of Nitrome! The future of this section depends on its reaction from you guys.
We are committed to keeping Nitrome about Nitrome games and we have no interest in turning Nitrome into a multi-developer arcade. At the same time, there is only a certain frequency that we can produce games to and we want to keep you all entertained.
So if you like this section we will try to put something up once a week and if it's very popular we'll try to come up with a way to house them away from the main Nitrome content.
This week's game is the incredible Super Puzzle Platformer! This game brings you an impressive mix of platforming and colour-match puzzling. We think this game is genius!
Our highest praise goes to Andrew Morrish the developer of this and many other great games
Play Super Puzzle Platformer: Click Here!