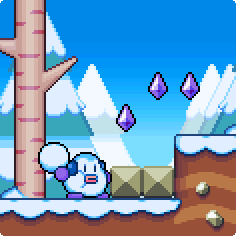 Hello Nitromians, once again it's time for us to give out some Pixel Love.
Today we'd like to highlight a game that deserves to be noticed in this wonderful world of the web! Snow Tale is a beautifully crafted platformer from Neutronized.
The run, jump, shoot control method will feel very familiar, and this isn't a bad thing. With such an enjoyable formula you'll be snowballing through the levels in no time. However there is more to this game than meets the eye. Popping in and out of houses and getting loads of enemies with the shoot-freeze-kick mechanic is very satisfying. Combine this with the ground pound and end level bosses, makes this a great little platformer.
With lovingly created characters and parallax scrolling l…
READ MORE