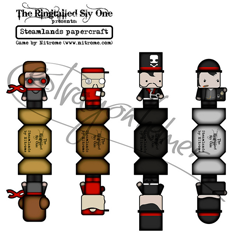 Hi Nitromians!
We recently received an email from a Nitromian who goes by the name of 'The Ringtailed Sly One' informing us about his amazing project - a Steamlands papercraft set!
The artwork is simply stunning in this papercraft artwork, we really can't believe the detail involved in the blocks! Also it looks like you can fit the characters into the steam engine room, which is a really nice touch!
'The Ringtailed Sly One' has taken dev mode to a whole new level and even created some items not in the game! :D
Steamlands Papercraft: Click Here
Play Steamlands: Click Here
Thanks for sending this in, it really is great work!
If you have any fan art you have made about Nitrome please do send it in! We love everything we get sent especially if it is our work applied to something we have never seen before. We will feature the best, most striking and most unusual pieces in our blog.