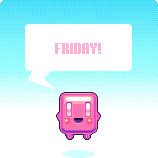 First Friday update of 2013, woohoo!
We hope you have all enjoyed the holidays as much as we did!
On Monday we'll be back with the first Pixel Love of the year. By the way, it was a slight oversight on our part that we didn't consider the Christmas break. Sorry about that :)
We are almost done with Bad Ice-Cream 2 with 4-player Touchy support, so expect that early next week too!
With only two days in the office this week we are not exactly sure yet what else we are going to bring you, but expect some sort of update in regards to one or more of our bigger projects.
Until then, have a great weekend everyone!