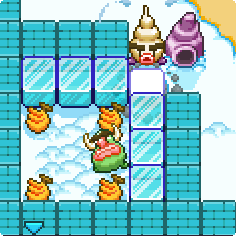 Hey Nitromians,
Nitrome is back... and you may be pleased to hear that our xmas treat Bad Ice-Cream 2 has been fixed and uploaded for you to complete.
Bug fixes include:
Level 34 - fixed major freezing bug.
Instructional panel - Now shows up the correct info for the Frost tiles level.
Highscores text - There was a bug which deleted your name when longer than a certain length. This issue has now been resolved.
The 'R' key can now be pressed to restart the level...neat.
For all you loyal touchy subscribers
We are working on finishing a 4 player Touchy implementation right now so that shouldn't be too far off. We will post an update as soon as it has been uploaded.
Play Bad Ice-Cream 2: Click Here!
Thanks for all of the helpful feedback. Enjoy ;0)