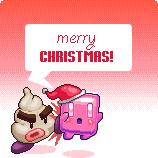 Hi Nitromians!
This will be our last post of 2012! We hope you have all enjoyed what we have been making this year and have been excited by our major announcements outside of the usual flash games we make!
If you missed it today we launched Bad Ice Cream 2 just in the lick of time for the holidays! You can play that here!
As a recap our big announcements of the year were:
Flightless - (PC Download/Steam/Greenlight). We are at the time of writing position 86 in the top 100 on Greenlight. To get to the top and get allowed on Steam we need your help! If you have a Steam account and have bought a game please go and vote! Know a friend who uses Steam? Show them the page and ask them if they wouldn't mind voting! Finally you can let everyone you know via any social network you use. With your help we will get Greenlit and be able to release this epic game! Flightless Steam Greenlight Page
Icebreaker - A Viking Voyage (iPhone/iPod Touch/iPad) We have been updating the webpage for the last few months but we recently launched the trailer! Icebreaker Trailer, Icebreaker Webpage
Touchy - Control our games with your phone or device!(Android/iPhone/iPod Touch/iPad) We launched this initially for idevices with 10 games! We now also support Android and have added a new game and demos! App store Google Play
Thanks to everyone for their support this year. Have a great Holiday and we will see you all in 2013 with more excting news on the things covered here, the website and much, much more!