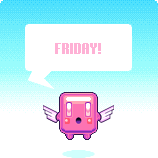 We hope that you are all enjoying our Touchy app! It is now available free to download on the app store - hurray!
Thanks goes out to everyone that has downloaded it already, we really appreciate all of the support that you are giving us on our project!
Check out our Launch Trailer for some insight into what the app can bring to your Nitrome Gaming Experience! You can play Super Snot Put right now for free with Touchy when you download the app. There is sure to be more games and updates on the app in the near future.
Happy gaming, and have a great weekend!