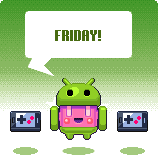 We've got that Friday feeling! Phew… what a week!
New game launch Swindler 2!
AND!!! Nitrome Touchy released for Android! So get your gaming hats on, download Touchy and try it for free with Super Snotput and if you like it buy the upgrade and play Swindler 2!
Have a great weekend!