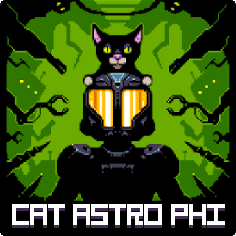 Hey Nitromians,
Winter has officially arrived and it's another gloomy looking Monday over the Nitrome HQ in London. Lucky for all you gamers out there we have found another awesome Pixel Love for you all to try which we are sure will brighten up your day.
Cat Astro Phi is a truly retro styled action adventure by the mega talented Photon Storm team (Rich Davey & Ilija Melentijevikc).
You play as a plucky astro explorer who is on a mission to find his lost feline companion after crash landing on an alien planet.
Players will most likely recognize the "familiar" handheld game console that the game is successfully mimicking. The green tinged retro styled art looks super stylish and manages to bring back memories of the good old days of classic handheld gaming. And the music is a true masterpiece in its own right composed by Rich Vreeland (which you can buy in-game if you are a fan of great retro beats like we are).
So if you are a fan of retro platformers, puzzles, pixels, cats (or just the colour green) then you're in for a gaming treat.
Play Cat Astro Phi: Click Here
Photon Storm: Click Here
We hope you enjoy Cat Astro Phi and we'll see you next week for some more Nitrome Pixel Love. ;0)