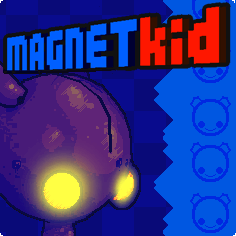 It's the start of another brand new week here at Nitrome HQ and it just wouldn't be the same without some more Pixeloving.
This week we would like to highlight the game 'Magnet Kid' a hard as nails puzzle platformer by 'Strange studios'.
It's your task to guide your magnet marching robot to the end of each stage. The trick here is that you can switch your characters polarity and use this to avoid the many dangers in your path. Why not use your powers to stick and hitch a ride on a moving platform? or use it as a shield to protect from enemy fire and lazers?...The list goes on for some really interesting (and uhmmm very difficult) magnet mechanics.
Magnet kid is both pretty to look at and easy on the ears, and earns a well placed spot in our Pixelove plaza. It reminded us of the polarity switching space shooter classic 'ikaruga' mixed with our own lovable Magneboy. It may be difficult but with infinite lives and magnetic hands it's a game that you will sure to be glued to for some time.
Join us next week for some more Pixel Love. And If you have any suggestions for games that you want to see highlighted by us in this section then feel free to point them out below.
Happy gaming. =0)