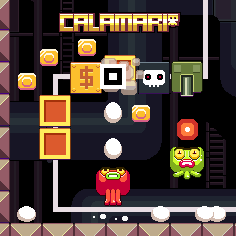 Hi Nitromians!
We have just released our latest game Calamari!
Take control of your square headed squid in this action packed survival shooter.
Collect coins and aim for the highest score possible. Compete against your friends on Facebook or grab a buddy for some frantic two player co-op action.
In an ever changing arena which is different every time you play, you had best have your wits about you and be careful not to be diced into Calamari!
Play Calamari: Click Here!
Happy Gaming!