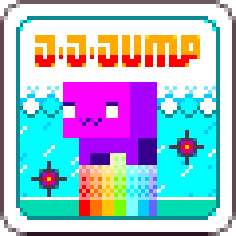 Hey nitromians,
The never ending downpour of rain and lack of any summer has clearly made an impact here at Nitrome HQ.
As we have a surprise release for you today in the name of J-J-Jump which fits our current British climate perfectly!
Can you use the super power of J-J-Jump juice to guide our Teeny hero through this icon platform adventure and escape the oncoming flood?
Remember: You can Play it on the front page from inside the icon or for those of you who hate squinting you can click the enlarge icon in-game to make it a bit bigger and easier on the eye.
Nitrome Homepage: Click Here!
Games Section: Click Here!
Well don't just stand there...get J-J-Jumping!