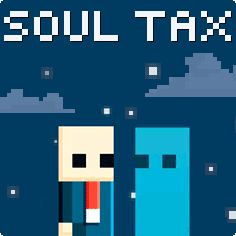 Hey Nitromians,
It's almost time for Halloween again. So what better way to celebrate than pulling a cotton sheet over your head and scaring the bejesus out of everyone?!?
Soul Tax is a hilarious ghoulish treat created by Jarod Long and Lauren Careccia which fits this theme perfectly.
The premise of the game goes something like this...After roaming in Limbo as a ghost for 8 years, you are approached by the grim reaper to pay back all of your 'soultax' before you can move onto the afterlife. It's a fairly simple but dark premise as you must possess and kill office workers by any means possible to reach your toll and progress to the next stage.
...A word of WARNING To anyone who may be offended by some dark and sometimes harrowing content, this may not be the game for you...
For everyone else we would suggest NOT to skip the dialogue! Just don't. Its a well-written and extremely humorous affair which you seriously don't want to miss.
Play Soul Tax: Click Here!
Have a happy Halloween Nitromians and don't forget to come back next week for some more Pixel Love. =0)