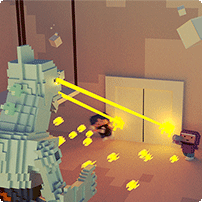 Hey Nitromians,
A nitromian by the name of Saugandh Nakkarike (Razor) has sent us a truly AWESOME depiction of our Nitrome Must Die game over on Facebook.
Click here or the image for the full artwork!

I think you'll all agree that this is truly brilliant. Bravo Razor we all love it ;)
As always we love to see fan art especially if it's in a medium we haven't seen before. keep em coming and we'll pick our favourites for you to look at.