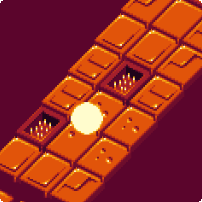 Hi Nitromians!
Wow, there has been an influx of awesome in the pixel-sphere this week! With the Ghost Wheel Jam providing a great bundle of games for you all to play! From this bundle, we have picked Music for Decay by Folmer Kelly as our Pixel Love choice!
The premise is simple, you play as an orb avoiding spike blocks and nasty elements for as long as you can on this endless treadmill. The longer you last, the more points you gain. We really like the "window of invincibility" that you get when pressing the up arrow. Don't worry, it doesn't provide the player with an insta-win mechanic, it spices up the gameplay considerably.
The mechanic needs to be deployed at strategic moments whilst evading the onslaught of trap tiles. The window of safety that is provided to the player is brief enough to engage the players reaction speed and hazard perception.
Click to Play Music for Decay!
Download the Ghost Wheel Game Bundle!
Have fun everyone! We'll bring you another Pixel Love next week!