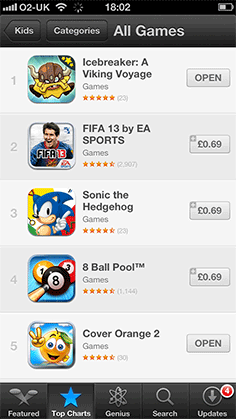 Hi Nitromians!
Well yesterday was a very special day for us at Nitrome. We managed to be the #1 game in the US app store for iPhone and #2 for iPad. UK we managed #1 for both iPhone and iPad! We also hit the number 1 spot in lots of other territories.
We are truly humbled by the response our game has got and we want to say a huge thank you to everyone that has supported us and bought the game.
We could currently do with more reviews (preferably of the 5 star variety ;)) as we seem a little light in that department compared to other games that launched.
To anyone who bought the game and enjoyed it, if you could please leave us a review...it really helps give other potential customers confidence that the game is worth buying.
To anyone who hasn't bought it yet we would still love your support too. You can get the Icebreaker here!