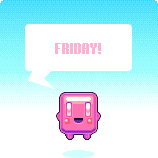 It's Friday, time for an update!
We hope you are all enjoying the latest updates to the Nitrome Touchy app, what do you think of the new and improved d-pad? We are really happy with the way it has turned out! :)
Join us next week as we will be bringing you our brand new game... Oodlegobs!
Until then have a great weekend everyone!