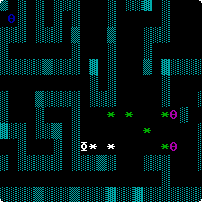 Today's Pixel Love game is Caverns of IO by Merrak. The game is very addictive with it's well known control method and retro looking ASCII maps. Using your WASD keys to fire and dispatch enemy whilst using your cursor (Arrow) keys to move around the environments, you can explore different strategies when facing the enemy.
When battling with the "purple zeroes", we found that attrition was the best way to go. Let them run their energy levels low, dodge their fire then go on the offensive!
Have fun everyone, we'll bring you another Pixel Love game next week!