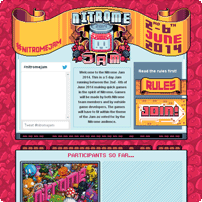 Hey Nitromians,
The Nitrome Game Jam webpage is now live!
The page includes details regarding rules, technology and size restrictions of your entry's.
Anyone who would like to participate in the Nitrome Game Jam can head over to the site and sign up now.
Finally were asking for a couple of volunteers...
All of the Nitrome staff will be involved making the games, but we would really love to let you all know what's happening as it happens. Therefore if anyone is interested and able to come to the Nitrome office that week and maybe take some photos and write some blog posts please get in touch. Support@nitrome.com
You need to be over 18 and we may need to meet you beforehand so we can show you the ropes (please note this is a first come first served basis). On the other hand if no one is interested then we'll just post as often as we can but it may be a quieter week.
Have a great weekend =)