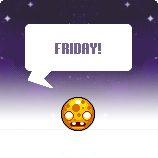 Hey Nitromians,
It's been another long busy week here at Nitrome HQ. Next week we will be revealing a bit more info on Cheese Dreams : New Moon. Nitrome's first ever game remake... wha!?!
Don't expect it to be the same game though. It has an all new engine, new levels, game mechanics, graphics, replay value and music. We hope you'll all agree that it's a much better game all round this time.
Check out the early demo for a taste.
Anyway the game is coming along great and should be Nitrome's next release in the coming weeks.
We will also be bringing you another Pixelove treat on Monday as well as any other news we can dig up during the week.
Until then have a great weekend. =D