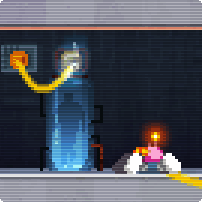 Hi Nitromians,
We have chosen a great Pixel Love game for you today, Chipset-0 by Deep Night!
This game has you maintaining a server farm full of humans, making sure everything is in order. We really enjoyed this one, the style is so well defined in which everything sits perfectly in the universe and makes for some real eye candy.
The game play is fluid, fun and comes packed with effective puzzle elements.
The level of finish on this game is remarkable considering it was built for LD30 (a 48h game jam).
Thanks for playing everyone, we'll be bringing you another pixel love game next week!