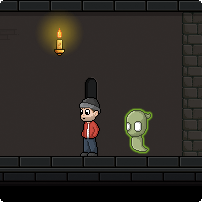 Hi Nitromians!
Today's Pixel Love game is A Ghostly Journey by Daniel Haslop.
This game has got some great artwork, music and interesting game play elements. You take on the role of a ghost that has to avoid light sources and disappearing forever.
The fun really starts when you begin possessing people to further your journey. The game difficulty isn't too steep and makes for a forgiving and enjoyable play session.
A quick word of warning, there are a few pixelated blood splats here and there in this game, so we thought we'd warn you in advance!
Have fun everyone, we'll bring another pixel love game next Monday!