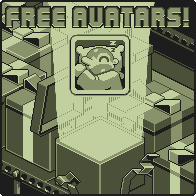 Hi Nitromians,
For all those that have downloaded 8bit Doves on their devices, we'd like to say a big thank you!
To show our gratitude, we have just released four brand new "8bit Doves" avatars for you to unlock!
Tap on the avatars image in the 8bit Doves app to unlock them in your Nitrome account!
We will also be bringing you a brand new browser game next week, so keep an eye out for that!
Thanks again to all our loyal followers, have a great weekend everyone!