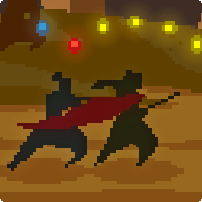 Today's Pixel Love game is Yojimbrawl, a fighting game with very fluid fighting mechanics made by Evan Greenwood (Programming), Dawid Strauss (Art) and Deon van Heerden (Music/SFX).
We really enjoyed chaining hits together into air juggles. We found ourselves performing smooth combos against our opponents. This is something that is very satisfying about the gameplay.
Have fun, we'll bring you another pixel love game next week!