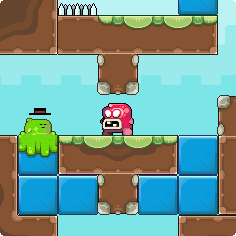 Hi Nitromians!
We have found a really great puzzle platformer for today's Pixel Love spotlight, it's called Blym, made by gameshot.org.
The main objective in this game is to guide your hero through the levels to the teleporter. That sounds pretty easy... right?
Well, to make things interesting, the levels are often filled with different enemies, traps and... blocks. You have the ability to morph into these blocks, essentially becoming part of the level. Some of the blocks are brittle which means you may end up breaking the wrong blocks resulting in replaying the level to correct your mistakes.
The game gets a little more difficult as you make your way through the different worlds and really tests your problem solving skills with some clever level design!
With great gameplay, art and music, we hope you find playing this game as enjoyable as we did!
Play Blym: Play the Game!
Have fun, more Pixel Love coming next week! :)