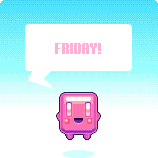 Hey Nitromians,
Wow... time has absolutely flown this week at Nitrome HQ. Some of our keen followers may have noticed a lack of news this week in our blog.
Don't worry, that is because we are extremely busy developing new games and simply haven't had the time to spend making interesting posts. Hopefully we can cram some more news for you all in our blog next week.
Until then you may be glad to hear that our latest game Test subject arena two is in its final stages and should (fingers crossed) be released next week. We are all very happy with the result and feel that it's one of our best multiplayer games to date. And for all of you Touchy supporters, it's an absolute blast in four players.
See you all next week for Pixelove on Monday. Have a great weekend.