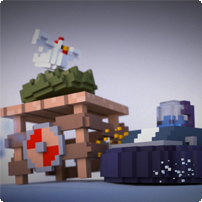 Hey Nitromians,
We have just had a really cool piece of fan art made for our upcoming game Bump Battle Royale. It was sent to use by Saugandh Nakkarike over on Facebook.
I think you'll all agree that it's not only great, but perhaps even cooler because the game isn't even out yet. A big thanks and congrats to Saugandh for sending this in.
If anyone has got any other fan art they would like to show off then please send them to us via homing pigeon email, Facebook or post. We would love to see them and will feature the best on our site.