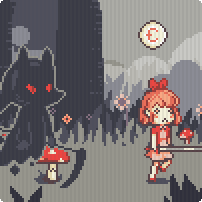 We have decided that our Pixel Love game choice for today is Fear Less by innomin and atpalicis!
This game really stood out to us with its slick yet creepy pixel art characters and environment design. It has great sound design and has some strong all round polish. The game is simple to pick up and play, with upgrades adding to the overall replay value.
we hope you enjoy this as much as we did.
Have fun! We will highlight another great Pixel Love game next week!