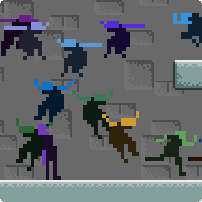 Today's Pixel Love choice is Glitch Lab by Nazywam
Glitch Lab asks the player to complete the game by exploiting the various bugs which can be found throughout the levels. This mechanic forms the core base for the game's puzzle elements.
We found it really satisfying to pass levels using nothing but the game "bugs". Figuring out how to complete a level and finding out what each level was asking from us as the player was a very interesting interaction.
We hope you enjoy this Pixel Love game as much as we did.
We'll bring you another Pixel Love game next week!