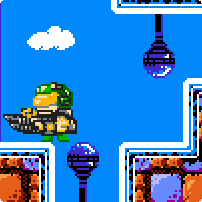 Hi Nitromians!
We've got a great Pixel Love game for you today, Cathode Raybits!
WARNING: There is some profanity from the outset of this game so play at your own discretion!
If you enjoyed playing Mega Man, we think you'll really like this one. The artwork looks fantastic and the sounds are authentic to the era, giving us some real nostalgia. Be warned, this game is really difficult! :)
Have fun everyone, we'll bring you another Pixel Love game next week!