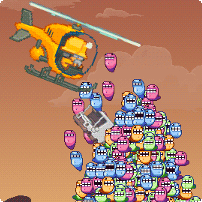 Hi Nitromians,
We'd like to let people know that our skin is work that was inspired by a piece of fan art created by Frostyflytrap. I didn't realise when I'd originally launched the skin, apologies!
We thought it was a cool concept and based a skin around the idea, you can see the original fan art here.
Thanks Frostyflytrap! :)
We should be adding some avatars to the skin some time today, so be sure come back a bit later to search for them!
If you have any fan art related to Nitrome, Nitrome characters or even Nitrome music, feel free to send it in! Who knows, we may feature it in the blog, or like this piece, use it as inspiration for something on the site!