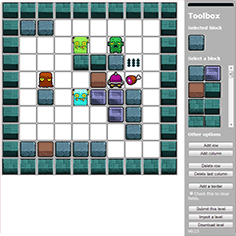 Hi Nitromians,
I don't mean to keep posting every day any more but we do seem to have a lot of noteworthy events to get out there...so erm I still am...but it will stop soon I promise!
Today we have a new fan made project that we became aware of over the Christmas Break and it is a little special! User 'Sim' has managed to make his own level editor for our game Square Meal....impressive!
It's online here so anyone can use it to make levels but a limitation is that you can't test them without Sim manually putting them into the game. The good news is that he is doing just that and already has 50 of them! We will be interested to see what people come up with!
We have worked on two fan collaborations in the past at Nitrome...the…
READ MORE