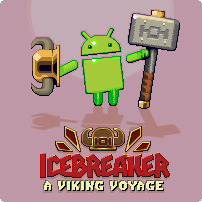 Hi Nitromians,
with only 5 more days to go we felt it was a good time to start a countdown for the Icebreaker: A Viking Voyage android release! We hope you are all excited... it has been a lot of hard work but we hope you will agree it was worth it.
It will also be the launch day for the Kraken update on iOS (and yes it is in the Android build too). Anyone who has an iPhone, iPad or iPod touch that has not already downloaded the game can do so here.
So look to the side panel and count down with us for the release next Wednesday!
We know we are being very Icebreaker news heavy at the moment so for anyone not as into Icebreaker (shame on you!) we have lots of other interesting things that we have been working on too including new flash games and we'll start sharing once we get Icebreaker out :)
Have a great weekend everyone!