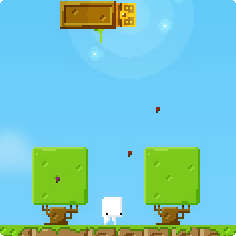 Hi Everyone!
We have chosen the game Pivot by PodBot as our choice for this week's Pixel Love!
Solving the puzzles in Pivot revolve around turning the screen in 90 degree increments to collect the chests that have been placed throughout the various rooms.
As you may know by now, we really like the look of well drawn chunky pixel art in games and in Pivot this is no exception. The navigation gameplay mechanic in this one was a challenge at first. After a while of rotating the environment, you realise that some of the rooms require you to remember what was in the previous room. You then rotate your current room to the correct orientation and jump onto the chest in the previous.
We feel this game is very well executed and deserves to be this week's Pixel Love game.
Play Pivot: Click Here!
Have fun, we'll see you next week for more Pixel Love!