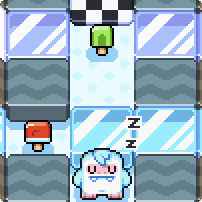 Our Pixel Love game choice for today is Lost Yeti by Neutronized!
This game is now also available to buy on both iOS and Android devices!
In this demo version of Lost Yeti, there is a simple premise. You must guide the yeti to the chequered flag on each of the levels by moving the ice blocks whilst avoiding enemies and collecting the treats along the way.
Lost Yeti boasts the same high level of graphical polish and quality pixel art that we have come to expect from Neutronized. It has a really bouncy soundtrack and lively sound effects too.
This is a real joy to play, we hope you all enjoy this one as much as us!
Have fun everyone, we'll bring you another Pixel Love next week!