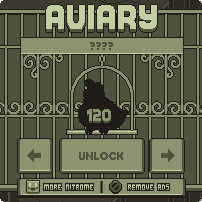 Hi Nitromians,
just before the weekend we thought we would hit you with a little Endless Doves update. In the game is an area called 'Aviary' and as you might expect it is filled with all sorts of flying things.
You unlock them by collecting doves in the game so bird collecting becomes not just your score but a currency of sorts too...Dove Dollars?
Guess away if you like at what you think the Bird in the image is and what you think the other unlockables might be.
For those who don't know Endless Doves is an upcoming Nitrome game that will be available for free on mobile devices and the browser.
Next week we will try to bring you news on a new game we have not spoke about yet....ohhh you big tease!
Laters!