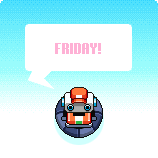 Hey Nitromians,

Phew... Bump Battle Royale was released in the nick of time. On further testing we just have noticed and squished a few nasty bugs.
To play the latest and best version of the game please clear your cache and check to see (Ver1.2) on the title screen.
You can point out any other bugs in the comments below and we will try to fix any really nasty ones next week.
Until Monday, happy gaming and have a great weekend!