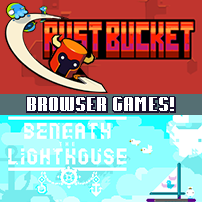 Hi Nitromians,
today we have not one but two new browser games for you to play on the Nitrome website!
First up is our twisty adventure game Beneath the Lighthouse! Work your way through a mysterious series of rooms in the cliffs Beneath the Lighthouse in search of your Grandpa.
Second we have Rust Bucket which we tried extra hard to launch the same day as the update on mobile! Turn based Rougelite! Follow up to our Turnament icon game with both levels and endless mode to try!
We will still be bringing you Go Pogo soon but we have a few problems need ironing out there still.
Have fun!