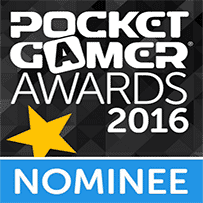 Hey Nitromians,

HURRAY! We have been nominated in the Pocket Gamer Awards 2016.

Both Magic Touch and Beneath the lighthouse are highlighted in multiple categories. Nitrome is also in the best developer 2016 category and best developer overall list.

We really are honoured to be selected. If you want to show us (or anyone else for that matter) some love for all of the free and cheap games you all play then...
PLEASE VOTE HERE!

p.s Please bear in mind that Pocket gamer is a site for mobile and portable games only, not browser. So this is why only mobile games are selected.