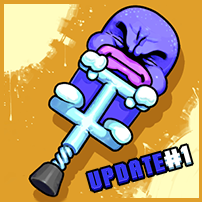 Hi Nitromians,
there is now a cool new update to our Go Pogo game live on the app stores! Yay!
It features 10 new exteme stages for those of you brave enough to try and beat! There are also 10 new characters to unlock! Hooray! We also tuned a few of the early bits to help users get into the game a little easier. We hope you enjoy the update.
Now we havent posted much recently....sorry. So time for a little update on whats to come next!
Rust Bucket update should be hitting next week to the App Stores!
Ultimate Briefcase should follow the week after launching in the first week of Feb (Sorry I know we said January before but it slipped slightly).
Now your all due some web games and we promised them for January too. We will try to get all three....some may end up being Feb though.
Have a great weekend everybody!