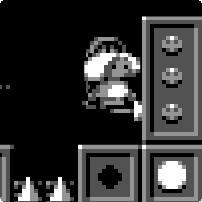 Today's Pixel Love game is Stakes by Folmer Kelly.
For those of you that are familiar with the concept of "puzzle blocks as platforms", such as all of you Super Puzzle Platformer veterans, you'll be more than at home in this great little game.
This one introduces some very interesting ideas like cannons, and spikes as platforms.
We really like the retro aesthetic in this one.
Have fun everyone, we'll bring you another pixel love game next week!