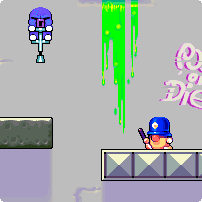 We've been working on a new game that will be called Go Pogo. Here is a screenshot, as you can see it revolves around a pogo stick jumping mechanic.
We've used our old Flash game, Ribbit as a reference, and although we didn't think Ribbit was the most striking or popular of our games, it appeared to be a good fit for a game to expand and revisit for a touch screen interface.
Go Pogo will be level based, but we are planning to have some unexpected game modes thrown into the mix.
On a side note, we've noticed a pogo game that came out on the app store last week: Zombie's Got a Pogo. As expected from the title and mechanic, some similarities came to our attention. Hey this happens, we can't consistently get unique ideas that…
READ MORE