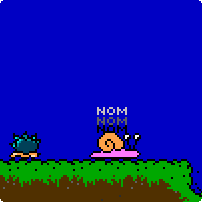 This week's Pixel Love game is Snailiad!
We really enjoyed playing this one. You play as a snail that is tasked with finding missing snails. We thought that the wall climbing mechanic was quite a fresh idea as was using the snails shell as a shield. This one has boss fights, power ups and more. The Music is also great!
Apologies for the late Pixel Love choice everyone, I was at home with the flu! We hope you enjoy playing this one! More Pixel Love next week!