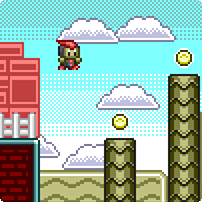 Hi Nitromians!
This week we have chosen Range Man by The Village Blacksmith as our Pixel Love game choice!
We have featured The Village Blacksmith's work before with Recursion, another great game.
The art style in this one has a similar look and feel. Use enemy for some extra air in your jump and to get to hard to reach platforms/areas. Avoid the spikes. This is a clean uninterrupted take on the classic platform genre. A really refreshing fun to play little title.
Have fun everyone, we'll bring you another Pixel Love choice next week!