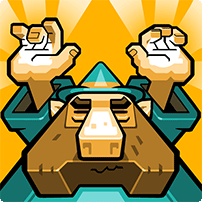 We have had some fantastic reviews of Magic Touch: Wizard for Hire so we thought we would do a little round up of some of them before the weekend.
"Magic Touch is a brilliant, sharply addictive arcade blast that makes brilliant use of your phone or tablet's touchscreen." Pocket Gamer 9/10 (Gold Award)
Magic Touch - Wizard for Hire [Free] is perhaps their best effort at being casual yet gamer-friendly. It's got touch-friendly controls, but very quickly ramps up into an incredible challenge to face down. Touch Arcade 4/5
Magic Touch: Wizard for Hire delivers excellent crafted touch based enjoyment that is a must have. Applenapps 4.5/5
I highly recommend checking out Magic Touch if you are looking for an intense arcade game and have enjoyed Nitrome's offerings in the past - App Advice
We hope that you have been enjoying our latest game, have a great weekend everyone!