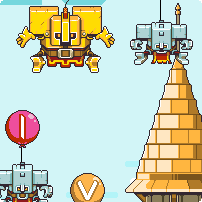 Welcome to 2015 Nitromians!
We are really excited about this one. Magic Touch is coming to mobile soon!
It's Magic Touch, but as you have never seen it before, completely revamped for mobile with loads of new backgrounds and new magic spells to unlock!
Everyone in the office that has played this game didn't want to put it down, so we can only imagine this is going to be just as fun for you Nitromians!
Check out this teaser screenshot!
What do you think?
We hope you all have a great start to the year!