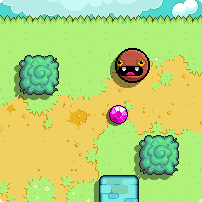 Hi Nitromians!
We mentioned a few days ago that we had a little surprise for our browser audience coming. We realise that with Magic Touch sadly not being available on the website, that it has left a bit of a gap in our release schedule. Hopefully that shouldn't be for too long, but we have also been far too aware for a long time of repeat comments asking about our unreleased game, Fluffball.
Fluffball was a game that was made all the way back in 2007 under a deal that we had with Miniclip. We finished the game and Miniclip posted it on the back of their site but both parties agreed that we weren't happy with the finished game. The game stalled at this point and after several revisions the game was never officially released.
This is the last version of the game that we made which attempted to re-jig the controls heavily turning it from the original mouse based controls to keyboard controls. We were still never satisfied with the end result but as there is clearly an interest, we felt this would be a good time to lay it to rest.
So without further ado, you can play our unreleased (ahem.. now released) Fluffball game, fresh out of stasis!
So what do you think... were we right to keep it unreleased?
Answers in the comments below and have fun... or don't... we'll see!