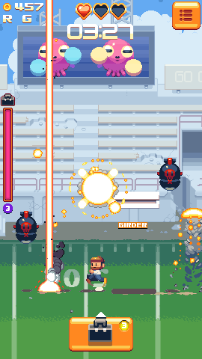 Hi Nitromians,
With Christmas upon us were starting to look to the New Year. Next on Nitromes release list will be our first ever published game 'Ultimate Briefcase' by the very tallented 'Quite Fresh'.
Quite Fresh is a new studio started by Stefan Ahlin who worked as an artist on many of Nitromes classic games such as Steamlands, Nitrome Must Die and Canary to name just a few!
The game is not submitted yet but it is wrapping up nicely, so the hope is that we will launch the game in January!
The game itself is super cool with literally a TON of content to unlock and every unlockable element has new gameplay be it a new character, power up or new location. There is also an awesome way that the backstory is slowely unlocked as you play too, which ties nicely to the characters that unlock and other elements.
More on this game soon!