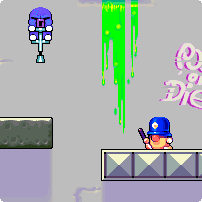 We've been working on a new game that will be called Go Pogo. Here is a screenshot, as you can see it revolves around a pogo stick jumping mechanic.
We've used our old Flash game, Ribbit as a reference, and although we didn't think Ribbit was the most striking or popular of our games, it appeared to be a good fit for a game to expand and revisit for a touch screen interface.
Go Pogo will be level based, but we are planning to have some unexpected game modes thrown into the mix.
On a side note, we've noticed a pogo game that came out on the app store last week: Zombie's Got a Pogo. As expected from the title and mechanic, some similarities came to our attention. Hey this happens, we can't consistently get unique ideas that no one else has thought of before, or around the same time.
We're loving the progress and feel of Go Pogo and to be honest we like a few things that the other game has done, however our game plays different and reassures us that we are on an awesome path!