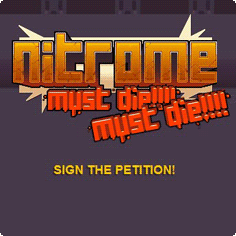 Hi Nitromians,
Following on from last weeks 'Nitrome Must Die'-gate, we are thrilled with the amount of support we have been getting and we just wanted to highlight a few to show how much we appreciate and listen to peoples support.
Special mentions go to John Niemann who set up a petition called 'Nitrome must live'. There was also some great email support such as the image we received 'Nitrome Must Die Must Die' from Matthew Killick.
Nitrome Must Live Petition - Click Here
Nitrome Must Die Must Die Image - Click Here
Thanks again for the amazing support guys!