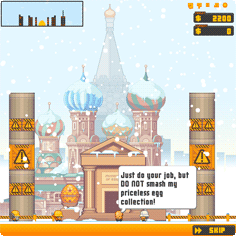 Hi Nitromians!
Are you all ready for our second winter game preview?
This week, along with the release of our latest game Lockehorn, we said that we'd be bringing you a preview of our next winter game!
Well here is... ...drum roll...
It's the next instalment to our super popular Rubble Trouble series set in a new snowy location!
Which city do you think Larry, Barry, Garry and the foreman will be working in the next game?
Let us know which city you think they are in on our Facebook page and Twitter!
Rubble Trouble Preview: Click Here!