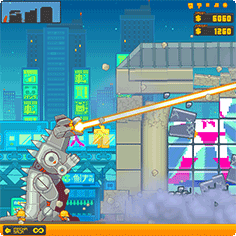 Hey Webmasters!
We have just started to distribute our 'block-busting' puzzle game, Rubble Trouble Tokyo!
We thought that we'd generously offer the chance for others to carefully take down buildings with Nitros, Grabbers and erm... Mecha-saurs! :)
You can now get Rubble Trouble Tokyo and many other Nitrome games for your site for free here!
iFrame Distribution: Click Here!
Game ZIP Download: Click Here!
Play Rubble Trouble Tokyo: Click Here!
Thanks to everyone for playing our games!