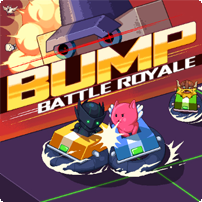 Hello all you lovely peeps!
Well this took a while… Bump Battle Royale is finally out! After lots of testing, tweaking and more testing, we're happy to say that the game is finished and ready for you to play.
Bump Battle Royale is an arena based sumo wrestling bumper car type affair! Honestly… that's the best way we can describe it!
Play on your own against some of your favourite Nitrome characters in campaign mode to unlock new arenas and make those beaten characters available for you to play.
If you want some multiplayer action, play with up to 3 friends in 2 game modes, Last Man Standing and Team Battle Mode. Available with or without Touchy. We've been playing this a lot and think this is the best way to enjoy the game.
So get your gaming fingers ready, 'cause it's gonna be a bumpy ride! (Sorry I couldn't resist!) We hope you have a great weekend battling through our latest release.
Have fun and may the best bump battler win!!!