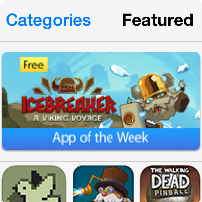 Great news Nitromians!
Icebreaker: A Viking Voyage has been selected by apple as its Free App of the week.
It will return to its full price next week, so if you have been unable to grab the paid version until now here's your chance.

We have no real intention to make large free games for mobile, but saw this as a rare opportunity to spread the Nitrome brand to a new audience. As apple doesn't give this feature slot out very often we felt that it was worth the risk.
A huge HUGE thank you for those of you that have paid for the App already. Without this funding and your loyalty Nitrome would cease to exist today. All of your hard earned money will go towards funding other great games for our site and mobile.
We hope that you'll all join us in celebration for this great achievement as it will hopefully help us continue to be here for many years to come.
The Nitrome team =D