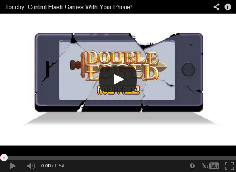 It's Friday and what does that mean… well something slightly different this time.
We are very proud to announce that the Nitrome Touchy App on iTunes and Google Play has been updated. So what does that mean to you the humble gamer? Well you can check out the video... or read on, or why not do both!!!
The Touchy technology has been updated and now we feel that the Touchy dpad is the best touch screen dpad interface on the market! All of our previous dpad based Touchy games have been updated. Also we must add that there is now wide screen support for iPhone5 and various Android devices.
And that's not all! We have 5 more games that have been added to the Nitrome Touchy Catalogue. They are as follows:
Also to celebrate all this wonderfulness that is the Nitrome Touchy App, we have made Double Edged free to play with Touchy! That's right now you and 3 of your friends can play Double Edged together… it's the best way by far!
We are already working on more Touchy goodness for your enjoyment that we will announce over the coming weeks but for now get back into Touchy and if you haven't already, go download it from the iTunes App Store or the Google Play Store.
Touchy Update Trailer: Click Here!
Have a good weekend and happy gaming!