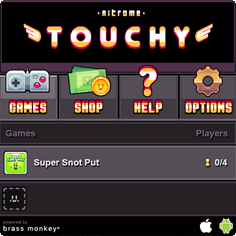 Good day Nitromians!
Today we have some exciting development news!
Here at the Nitrome HQ, we have been developing something completely different. We have been working with the developers Brass Monkey and are proud to announce that through this partnership we will soon be offering a new app - "Nitrome Touchy"
Nitrome Touchy is powered by Brass Monkey's technology, who have been working closely with Nitrome to produce the app. The Nitrome team have been working tirelessly on developing some of our favourite games to support this exciting technology.
Nitrome Touchy is a wireless controller solution that opens up a whole new world of opportunities for our browser based games. By using your smart phone or iDevice you can take advantage of the built in motion control and the touch screen interface. This technology also allows us local multiplayer opportunities that we could never achieve within the confines of a normal keyboard. See our Double Edged trailer for a taste of this.
The app will be available for iPhone / iPad / iPod Touch devices and shortly afterwards for android mobile devices.
We will be announcing more details soon about the initial 10 launch games. This will be followed by a further 20 games that will be available within the first 6 months of launch.