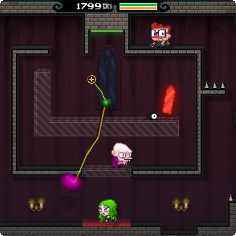 This week we are giving out some love to Photon Baby,A colourful pixel delight by Jeremias Babini.
It's a spooky world filled with bright lurking nasties. Armed with your 'photon blast' cannon it's your job to destroy all enemies on stage.
Sounds simple doesn't it...?
The main problem being that each monster can only be defeated by a certain colour of blast, assigned by reflecting blasts off of various surfaces.
The configuration of monsters and elements get more complicated as the stages progress leading the player to quite literally explore the game from every angle. With frequent new elements, climactic boss battles and a charming ending, it's well worth the play through.
We loved the bright and chunky pixel style characters in this and the physics based reflective controls reminded me of a cross between our own Dirk Valentine, Nebula and the 90's classic Zombies ate my Neighbours.
Play Photon Baby: Click Here
Have fun with this one and we will see you back next Monday for some more Pixel Love. =0)